Brushy Creek Park is one of the most beautiful lake parks and campgrounds in all of East Texas. The park is located on the south end of Lake O' The Pines near the dam. If you enjoy being outdoors among the tall pine trees of East Texas and near a wonderful lake, this is a great park for you.
Brushy Creek is a sprawling park and campground that has both a day area and an overnight camping area. The day area includes a very nice beach that is roped off. It is also somewhat protected from the wind by the dam. There is a basketball court for use as well.
The campground area is set on a small hill that protects you from the south winds that sometimes hit the lake. And there are plenty of beautiful pine trees that stretch into the sky that provide shade throughout the day. There are also great views of the lake from most of the campsites.
Restrooms
The restroom facilities here are fairly nice. The restrooms are "individual" with each room having a shower, sink, and toilet.
Cost
There is a cost for the day use area and is a great section of the park with plenty to do.
Hours: Park hours are 8 am to 6 pm (seasonally), but the exit gate works 24 hours a day
Overnight camping requires a fee depending on the campsite you select.
Day Use
The day use area requires a fee and offers up a great deal to do. There is a half court basketball court. There is also a great swim beach overlooked by a heavily treed picnic area. The day use area has a great two lane boat ramp with a boat dock. This area is protected by the dam from the wind so spending a day in or around the water is really calm. This is a beautiful section of park.
Amenities
The park has all the standard Army Corps of Engineers amenities that you would expect. The restroom and shower facilities are top notch for a campground. The campsites have nice picnic table, tent pads, and fire rings.
There is a very nice 3-lane boat ramp you can use to launch your boat.
There is a playground and separate basketball court for kids to play on. And there are plenty of trails to explore. The day use area also has a nice swim beach area for those hot days when you want to get in the water.
We cannot recommend this campground enough. If you want to be miles away from the city and want plenty of shade from the tall pines, this is a wonderful campground to choose. We absolutely love it.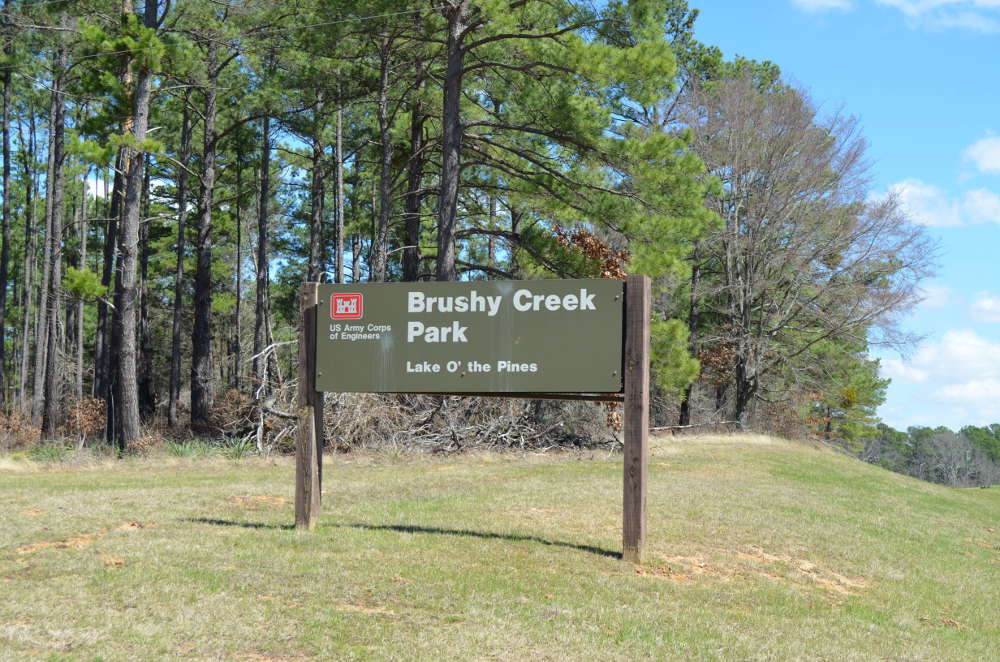 Campground reservations can be made at recreation.gov.
Located at:
Brushy Creek Park
2669 FM 726
Jefferson TX 75657