Buckhorn Creek Park is a very nice Army Corps of Engineers campground located on the south end of Lake O' The Pines just on the east end of the dam. This campground has 40 RV sites and 38 tent camping sites. The park itself is protected from the wind by the dam and by the many trees throughout the park. Most of the park sits on a huge cove area of the lake.
Cost: Campsites require nightly fee
Tent Camping
The tent camping sites at Buckhorn Creek Park are mostly right along the water. There are two separate areas for tent camping. Campsites 201 through 222 are in the back of the park away from the RV camping areas. Most of these sites have trees for shade and are right on the lake. There are some nice restrooms in this part of the park as well and there is plenty of parking. Campsites 101 through 116 are also on the lake, but sit between the to RV camping areas. These sites are nice as well, but the sites in the 200's appear slightly better. Some of the tent sites have water and electric.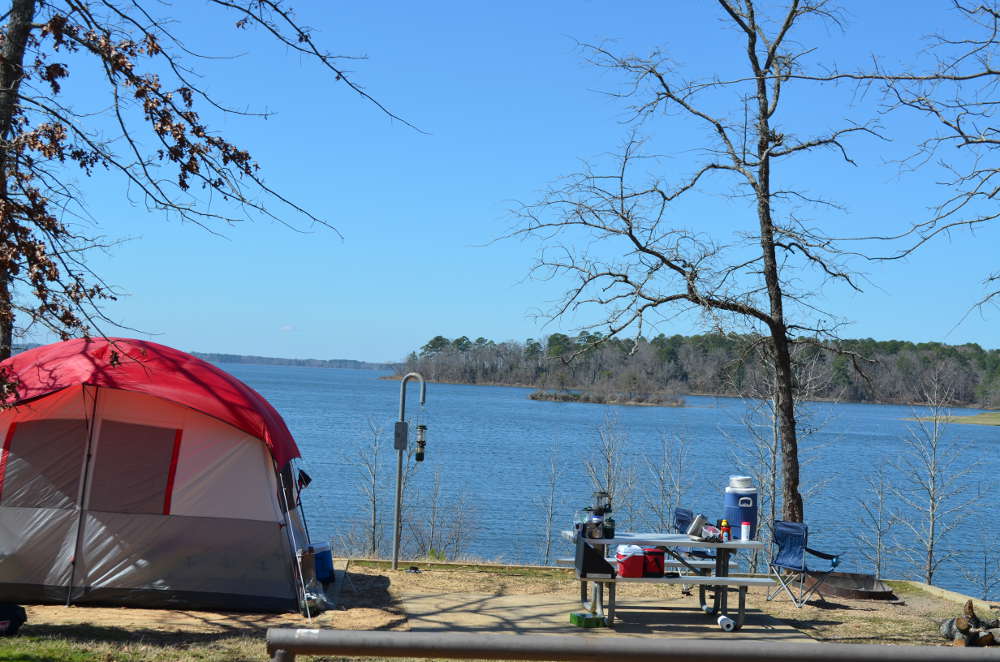 RV Camping
For RV camping, there are two main areas as well. One area sits in the back of the cove and the other is nearer the main lake. All of the RV sites have water and electric hookups and there is a dump station within the park. Most of the sites are back in only. The RV sites are fairly well spaced as this park has plenty of room. This is a beautiful area to camp in an RV.
Here is a map of Buckhorn Creek Park.
Amenities:
Playground area
Picnic Tables
Fire Ring
Restrooms with showers
Boat ramp with dock
Plenty of Trees
All of the campsites, both tent and RV, have picnic tables and fire rings. The campground overall is very well maintained.
There is a great two-lane boat ramp on the main lake with a boat dock. One of the best ramps on the lake, the Overlook Ramp, is less than a mile away as well.
The restrooms are nice and have hot water and showers. There are several restrooms throughout the park.
Lake O' The Pines is one of the best places to camp in all of Texas. It is a wonderful way to get out of the city and into the tall pine trees that decorate East Texas. Buckhorn Creek Park is a great park with good access to Lake O' The Pines.